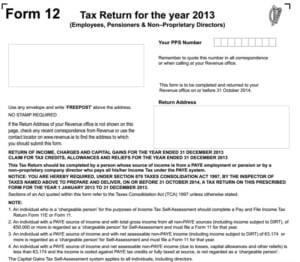 What is a Form 12 tax return?
Form 12 is a tax return that allows employees, people in receipt of pension income and non–proprietary directors to make a return of income and claim tax credits, allowances and reliefs (including any health expenses).
For the tax year 31 December 2013, an electronic version has been made available by the Revenue Commissioners called eForm 12.
Importance of professional advice
It is highly recommended that professional advice be sought in relation to the completion of any tax return in order to avoid the risk of making an incorrect claim which could later result in a requirement to repay tax, interest and penalties to the Revenue Commissioners.
For expert advice in relation to the completion of a Form 12 tax return, contact our office in order to arrange an appointment.
Telephone:+353 74 912 2820 or email mail@edwinfoley.com.
The information contained in this update may be subject to change and accordingly is not a substitute for professional advice or services, nor should it be used as a basis for any decision or action that may affect your finances or your business. Before making any decision or taking any action that may affect your finances or your business, you should consult a qualified professional advisor. This firm shall not be responsible for any loss whatsoever sustained by any person who relies on this update