Letter from EBN European Business Number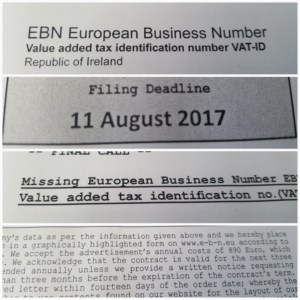 A number of clients have contacted our office in relation to a letter they have received from "EBN
European Business Number"; the letter gives the impression that it has been issued by a European tax authority and that the business owner needs to provide confirmation of their VAT number.
However, the attachment page is actually a purchase order for advertisement services and contains the following details in the small print:
"We accept the advertisement's annual costs of 890 Euro, which are payable in advance upon receipt of the invoice. We acknowledge that the contract is valid for the next three years and subsequently will be automatically extended annually unless we provide a written notice requesting termination of the
contract...".
Our advice to any business owner who receives this letter is to simply ignore it.
Disclaimer information:
The information contained in this update may be subject to change and accordingly is not a substitute for professional advice or services, nor should it be used as a basis for any decision or action that may affect your finances or your business. Before making any decision or taking any action that may affect your finances or your business, you should consult a qualified professional advisor. This firm shall not be responsible for any loss whatsoever sustained by any person who relies on this update.